Start > Network > Schools and Start-Ups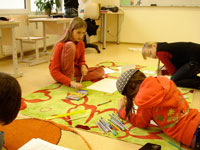 Žirmūnų g. 139A
Vilnius LT-09120
Lithuania
Tel.: +370 5 2737261
Fax: +370 5 2784741
info(at)ziniukas.lt
www.ziniukas.lt
Name of contact person:
Alfredas Ramanauskas, +370 68749647, alfredas(at)ziniukas.lt
Year founded: 2009
Number of students: 18
Age range of students: grades K-4 (age 5-10 years)
Number of staff: 5 full-time and 4 part-time
Type of funding (government/private): private
We base our life on our vision: "Children are capable to reach further" and on our values: motivation, individuality, respect, responsibility and honesty.
It took us some 4 years until we managed to break through and open. Although infrastructure was the main obstacle to start the school, the prolonged preparation turned positive in a sense of more matured educational principles. Initially, the "Step by Step" program was the driving idea. However, final framework emerged from fusion of thoughts of Eric Jensen, Geoff Petty, Kate Burk Walsh, and others with principles of democratic education and backed with our own experience at truly democratic Vytautas Magnus University.
As we are a small organisation, our structure is also flat and decision paths are short. Governing issues are solved by a school council and the school principal; major educational principles are decided by council. Daily routines are discussed and agreed upon within staff meetings, and student issues are agreed through staff-to-student discussions.
Conflicts are discussed among the parties involved based on school rules.
Our guiding principle is personalised curriculum, so each child advances according to his/her own capabilities, preferably going well beyond official curriculum requirements. Overall, curriculum is a mix of free and fixed, with strong emphasis on practical experience and activities (self-initiated activities, projects, out-of-school research, etc.).
Local regulations are very strict, extensive and formal. So, formally they impose problems when applying innovative schooling methods.
Parents are very involved in the process of child education and development via continuous feedback on the child's progress and through regular discussions with teachers and the school principal.
---