Start > Network > Schools and Start-Ups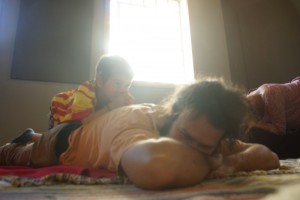 Ελληνικά παρακάτω
EN is an inter-age theatre collective active in theatre practice, education and research (in the broadest sense of 'theatre')
It is a EUDEC Start Up Group and functions as an incubator for stable versions of its model, such as Agile Learning Democratic Schools.
EN's members belong to a variety of age groups.
Our fields are: movement, dance, improvisation, circus, contact, music and voice techniques, somatic and therapeutic methods, martial arts and acrobatics.
We create and present performances and educational programs for all ages and offer our structure as an open source model for public use.
Our structure, in terms of composition and in terms of organization in general is based on democratic council without age discrimination and nomadic theory and practice.
Our main tools are open scores, theatrical alchemy, the combination of performances and workshops and the use of various spaces beyond theater spaces.
We promote and support the right to choose, to differ, tο self-direct and self-determine.
It is an interdisciplinary collective of all ages with stable locations and moving modalities.
EN's structure is a model of autonomous, horizontal organization which assures the inviolability of freedom of conscience.
It gives voting rights to under 18s and deciding power to horizontally organized council.
This structure magnifies the potential of the democratic school council and of the 'under aged' legal voice.
It is maintained in constant evolution.
EN aims at:
-the empowerment, development and networking of autonomous social, artistic, research and educational structures in Greece and abroad.
-the establishment of international democratic educational initiatives for all ages with stable, mobile and web formats.
-creating passage towards resilience for individuals and groups made vulnerable by social and/or economic marginalization.
We collaborate with groups and individuals beyond dividing lines; cultural, academic, geographical, social, age lines. We maintain international cooperation with artists, teachers, writers, activists, acrobats, researchers, schools, institutes, theaters, collectives, therapy programs etc. Through these alliances we provide research, artistic and educational contexts which "… guarantee to everyone the right to develop their personality freely in all aspects that compose it." (Article 5 paragraph 1 of the Greek Constitution)
We are collaborating with EUDEC Greece for the running of Spring Academies around Greece and EUDEC18 .
Weblink: https://www.ensoma.gr/en-eudec-2/
Το ΕΝ είναι μια δια-ηλικιακή ομάδα θεατρικής πράξης, επιμόρφωσης και έρευνας(με την ευρύτερη έννοια του θεάτρου.
Ειναι ομάδα έναρξης του EUDEC και αποσκοπεί στη δημιουργία σταθερών δομών του μοντέλου του όπως Δημοκρατικά Σχολεία Ευέλικτης Μάθησης.
Οι συντελεστές της ομάδας ΕΝ ανήκουν σε διάφορες ηλικιακές ομάδες.
Πεδία της ομάδας είναι: τεχνικές κίνησης, χορού, αυτοσχεδιασμού, τσίρκου, contact, μουσικής και φωνής, σωματικές και θεραπευτικές μέθοδοι, πολεμικές τέχνες και ακροβατικά.
Δημιουργούμε και παρουσιάζουμε έργα και εκπαιδευτικά προγράμματα για όλες τις ηλικίες και παρέχουμε ανοιχτή πρόσβαση στη δομή μας διαθέτοντας την ως πρότυπο προς ανοιχτή χρήση.
Η δομή, όσον αφορά τη σύνθεση των έργων/εργαστηρίων και όσον αφορά την γενικότερη οργάνωση, βασίζεται στο δημοκρατικό συμβούλιο χωρίς ηλικιακές διακρίσεις και στη θεωρητική και πρακτική νομαδικότητα.
Βασικά μας εργαλεία είναι η σύνθεση ανοιχτής δομής, οι θεατρικές αλχημείες, ο συνδυασμός των έργων με τα εργαστήρια και η χρήση ποικίλων χώρων πέραν των θεατρικών.
Προωθεί και υποστηρίζει το δικαίωμα της αυτόνομης επιλογής, της διαφορετικότητας, της αυτοδιαχείρισης και αυτοδιάθεσης.
Είναι μία δια-ηλικιακή διεπιστημονική ομάδα με σταθερές και κινητές δομές.
Η δομή του ΕΝ αποτελεί πρότυπο οριζόντιας αυτό-διαχείρισης που εγγυάται το απαράβατο της ελευθερίας συνείδησης.
Δίνει δικαίωμα ψήφου στους ανηλίκους και ισχύ αυτοδιάθεσης στο οριζόντια οργανωμένο συμβούλιο. Η δομή αυτή διευρύνει τις δυνατότητες του Συμβουλίου όπως χρησιμοποιείται στη Δημοκρατική Παιδεία και της νομικής φωνής των ανηλίκων.
Διατηρείται σε εξελικτική πορεία.
Το ΕΝ έχει ως σκοπό:
-την ενίσχυση, ανάπτυξη και δικτύωση των αυτόνομων κοινωνικών, καλλιτεχνικών, ερευνητικών και εκπαιδευτικών δομών εντός και εκτός Ελλάδας.
-την ίδρυση διεθνών δημοκρατικών εκπαιδευτικών δομών για όλες τις ηλικίες με σταθερές, κινητές και ιστολογικές μορφές.
-την παροχή διόδου προς την αυτοδιάθεση για άτομα και σύνολα που έχουν πληγεί λόγω κοινωνικής ή/και οικονομικής περιθωριοποίησης.
Συνεργαζόμαστε με φορείς και ειδικούς πέρα από διαχωριστικές γραμμές πολιτιστικές, ακαδημαϊκές, γεωγραφικές, κοινωνικές, ηλικίας. Διατηρούμε διεθνές δίκτυο συνεργασίας με καλλιτέχνες, παιδαγωγούς, συγγραφείς, ακτιβιστές, ακροβάτες, ερευνητές, σχολεία, ινστιτούτα, θέατρα, συλλογικότητες, θεραπευτικά προγράμματα κ.α.
Με αυτές τις συμμαχίες παρέχει ερευνητικά, καλλιτεχνικά και εκπαιδευτικά πλαίσια με στόχο να «…εγγυάται στην καθεμία το δικαίωμα της ελεύθερης ανάπτυξης της προσωπικότητάς της ως προς όλες τις εκφάνσεις που την συνθέτουν.» (άρθρο 5 παρ.1 του Ελληνικού Συντάγματος)
Συνεργάζόμαστε με το EUDEC Greece
για τη διεξαγωγή του EUDEC18
και Ακαδημιών Ανοιξης
σε διάφορα μέρη της Ελλάδας.